With the geopolitical map of Europe and the world being shaken to the core by the Russian invasion of Ukraine, the Western Balkan (WB) region has yet again regained the political attention. Notwithstanding its strategic and symbolic importance for the European Union, the Western Balkan countries (Albania, Bosnia & Herzegovina, Kosovo, Montenegro, North Macedonia, Serbia) risked remaining something of a blind spot. Although fully surrounded by EU member states and being promised an EU membership perspective at the 2003 EU Summit in Thessaloniki, none of the six WB countries have so far succeeded in meeting the EU membership requirements.

Despite the troublesome accession process, the WB countries have been closely tied to the EU both economically and politically.The EU is by far
the largest donor, foreign investor and trade partner
to the WB region. In the field of energy, all WB countries are contracting parties to the Energy Community, an international organization established to facilitate the transposition of common EU energy market rules to the EU candidates and other neighboring countries in the East. This essentially means that entire EU energy and climate legislation needs to be transposed by WB countries. In September 2021 the president of the European Commission Ursula von der Leyen and in June 2022 the German Chancellor Olaf Scholz visited the WB. Scholz stated that
the EU accession of the region is top priority
in a bid to ensure that the EU and the WB speak with one voice in the current and possible next geopolitical conflicts.
But other major powers, including Russia and China, have not sat quietly either and have stepped up efforts to increase their presence in the region with important implications for energy policy and planning. Serbia has traditionally maintained close political and economic relations with Russia, not least because of Russia's support over the status of the former Serbian province Kosovo. Aleksandar Vučić, who served as prime minister during 2014-2017 and as president since 2017, has installed an increasingly authoritarian populist regime in Serbia. His foreign policy allies have included not only Putin's Russia but also China, United Arab Emirates and Orban's Hungary. Other WB countries, which fear Serbia's regional dominance, have turned to the US and NATO as their key strategic partners. Albania, Montenegro and North Macedonia are full-fledged NATO members. The public support for NATO and even the EU membership has continuously been lowest in Serbia among all WB countries.
A most recent poll
has even found that the share of Serbian citizens who are not supportive of the EU membership for the first time surpassed the portion of those who are openly in favor of Serbia's EU accession.
Despite some differences in the energy mixes, the WB countries suffer from the outdated energy infrastructure, weak institutions and limited influence of grassroots environmental movements. In consequence, strategic orientation and investments in the energy sector are mainly shaped by the preferences of a closed circle of domestic decision-makers and interest groups and, importantly, external signals and pressures. It is in this top-down and often contradictory political context that energy developments have been taking place. On one hand, the WB governments have been obliged by EU legislation to put in place support instruments for renewable energy sources and achieve mandatory renewable energy targets. While some progress has been made in this regard, the deployment of new renewable energy sources, particularly solar and wind, has remained modest. In 2018, the share of renewable energy sources (excluding large hydropower) in the electricity sector in the six WB countries was
only 6%
. Where happened, investments in solar and wind energy have
mostly been in large-scale projects financed by foreign investors
. Following the wider EU trend, the WB governments have increasingly shifted towards public auctions as a mechanism for attracting renewable energy investments. While this may have a positive impact on the cost of projects, it usually does little to empower local citizens and communities to take an active part in renewable energy transitions.
The lack of district heating network in the most parts of the region poses additional challenges but it also offer opportunities for decentralized renewable-energy based heating using, for instance, solar thermal and heat pumps. On the other hand,
the investments in fossil fuels, mainly natural gas but also coal, have continued to be high on the energy policy agenda
.
Such investments have been supported not only by China and Russia, but also the EU and the US
. Very much like in the rest of the world, the Russian war on Ukraine has prompted WB governments to reconsider their energy security by exploring both renewable energy potential and new fossil fuel supplies.
Figure.- Total installed wind and solar PV capacity in WB6 in 2020 (MW)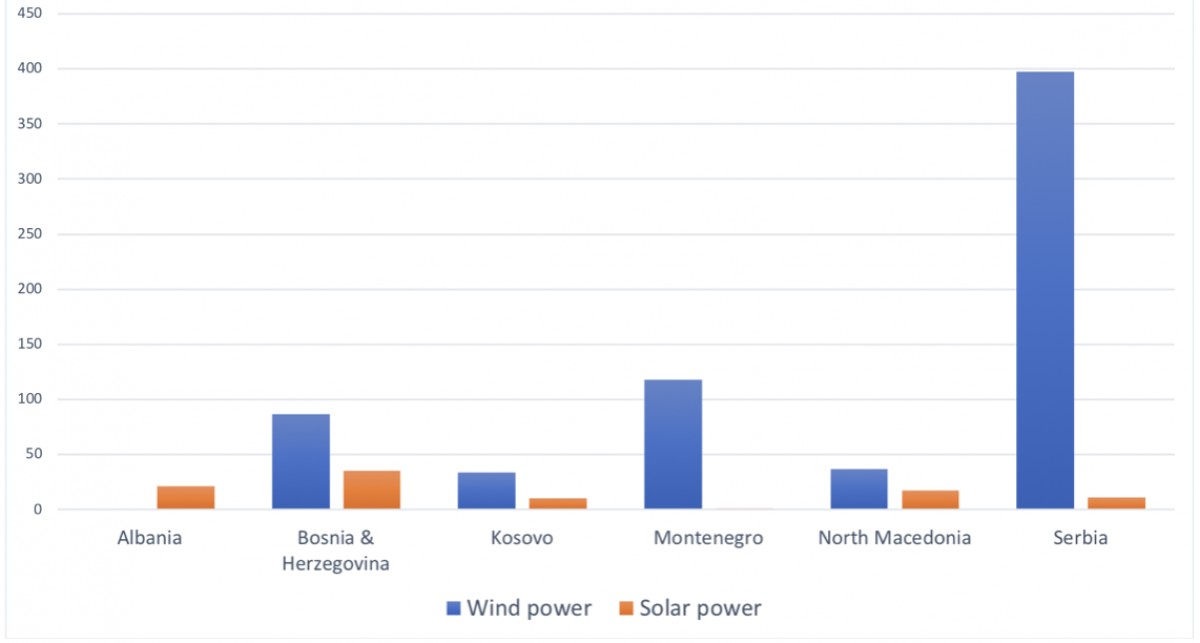 Source: Eurostat.
Albania
The US administration has since years strongly advocated for the diversification of energy supply in Europe, especially of natural gas. One of such projects is the Trans Adriatic Pipeline (TAP) which became operational in 2021 bringing natural gas from Azerbaijan to Italy, over Greece and Albania. This has strengthened the position of Albania as a an energy transit country and has paved the way for boosting the role of natural gas in the country's energy system. Albania generates its entire electricity from hydropower plants which is subject to considerable fluctuations due to the changing climate and declining precipitation levels. Natural gas almost plays no role in the energy mix currently as
households prefer using electricity and wood
for space heating.
But Albania has oil and natural gas reserves and with its long coast it is well placed to serve as a hub for importing and distributing liquified natural gas (LNG) to the region
.
The efforts of the Albanian government backed by the US to expand the use of natural gas
have received
a new impetus
by the conflict in Ukraine.
The exploration of natural gas on two sites in Albania obtained a green light from the government
while
the US companies Exxon Mobile and Excelerate Energy Inc moved ahead in the plans for constructing the LNG terminal and taking over the still non-operational Vlore thermal power
plant on the Albanian coast. Vlore thermal power plant, built in 2011 but never put into use due to technical problems, is supposed to be redesigned by the two US companies to run on LNG.
The environmental groups have criticized the investments in oil and natural gas
as detrimental to the country's environmental and climate mitigation efforts.
Albania has abundant solar and wind energy potential. Although
a solar plant of 5.1 MW
was constructed by the Albanian state-owned power company in 2021 and
several other projects
by foreign investors are in the pipeline, the transition towards greener and more decentralized energy sources is still in the early phase.
Kosovo
In coal-dependent Kosovo, the US foreign aid agency alongside the EU financial bodies dedicated investments for increasing the use of natural gas by connecting Kosovo to TAP. This plan was surprisingly ditched by the Kosovo government in May 2022 and the available
funds will instead be used to invest in the development of renewable energy sources
. This should help Kosovo align its energy development more closely with the EU decarbonization targets but concrete projects are still to be specified.
North Macedonia
North Macedonia
heavily relies on lignite coal and it imports its entire natural gas from Russia. The LNG terminal in Alexandroupolis in Greece
, which is supported by the EU funds and expected to be operational in 2023, is set to serve as an important alternative source of natural gas for North Macedonia and Serbia.
The construction of a natural gas pipeline connecting North Macedonia and Greece is also underway
. Wind and solar energy received little political backing in North Macedonia in the past but, similarly to other WB countries, the government has recently turned to auctions as an instrument for attracting investments in
large scale solar PV projects
.
Montenegro
In Montenegro, the smallest of the six WB countries with the population of slightly more than 600 thousand, electricity generation is based on
coal and hydropower
. While two large wind power projects were implemented in the past years increasing the
share of wind power in electricity production to 15%,
the renewable energy potential remains high
. The Mozura wind park in Montenegro built by a consortium of Maltese and Chinese power utilities in 2019 has
faced serious allegations of corruption.
Solar power is abundant in Montenegro but accounts for only 1% of electricity production. Montenegro does not have own natural gas infrastructure but there have been long-standing gasification plans,
primarily through the Ionian Adriatic Pipeline which should connect to TAP and bring Azeri gas from Albania
to Montenegro. The Montenegro government has also recently opened its territorial waters in the Adriatic Sea for
oil and gas drilling
but
no reserves were found
in the first exploration round. The
government officials are hopeful
that oil and gas reserves will be discovered in the next exploration phase.
Bosnia-Herzegovina and Serbia
Bosnia-Herzegovina consists of two political entities, one controlled by ethnic Croats and Bosniaks and the other by Serbs. Bosnia-Herzegovina and Serbia have a similar electricity mix which consists of coal and hydropower. In 2021, Bosnia and Serbia started importing natural gas from Russia through the TurkStream which was strategically important for Russia to bypass Ukraine as a transit country. Both Serbia and the Serbian entity in Bosnia & Herzegovina have refused to join sanctions against Russia and expressed readiness to discuss
new Russian investments in natural gas projects
. In May 2022, Serbian President Vucic announced a new 3-year deal with Gazprom for natural gas supply.
The new investments in coal in Bosnia-Herzegovina and Serbia were meant to come from China. But while in Serbia
a controversial new coal-fired power plant unit Kostolac B3
has been under construction by the Chinese companies, the
planned investment in Bosnia has faced uncertainty
following the decision of China in 2021 to stop funding coal projects abroad. In March 2022,
the parliament of Bosnia & Herzegovina voted to extend the operation of two coal power units by 2028
, which
faced criticism by the Energy Community Secretariat. The events in Ukraine have seemed to only strengthen the determination of the governments in Bosnia & Herzegovina and Serbia to continue relying on their domestic coal reserves. At the same time, Serbia adopted a new Renewable Energy Law in 2021 and
in 2022 it announced
plans to phase out coal by 2050
and achieve the share of renewable energy sources of 49,6% by 2040.
As the Western Balkans finds itself divided and at a crossroad, there is emerging risk
highlighted by environmental groups
that
the region will lock itself in fossil fuel investments which are bound to become stranded assets in the near future
. Yet, there is still a chance that the momentum of
the new EU membership perspective can be used to tap into an enormous natural potential
and offer a clear perspective for an inclusive low-carbon energy transition in the WB countries.
(
Here
, the Spanish version)