The war against Ukraine has highlighted the importance of strengthening the EU's open strategic autonomy
, thus accelerating the
transformation
of the economy. A clear example has been the push for an energy transition, with the aim of
reducing dependence
on Russian oil and gas.
But in trying to become less dependent on Russia, are we increasing our economic dependence on other countries, such as China?
China is the world's second largest economy, but it pursues a different economic and social model than that of the EU, with
different geopolitical interests
. Thus is the importance of carrying out this analysis – in order to detect possible points of vulnerability, to which solutions must be found.
[Recibe los análisis de más actualidad en tu correo electrónico o en tu teléfono a través de nuestro canal de Telegram]
A first area in which China's role stands out is in the extraction and refining of critical raw materials.
As European Commission President Ursula Von der Leyen herself indicated,
lithium and rare earths will soon be more important than oil or gas
. This is because these materials are necessary for the green and digital transformations of our economies, and demand for them is expected to rise sharply in the coming years. Taking into account the economic importance of the material and the risk in its supply, the European Commission draws up a list of critical raw materials for the EU every three years. The last one, from 2020, shows that
98% of the rare earths consumed by the EU come from China
, as well as 93% of magnesium, 69% of wolfram, 66% of scandium and 49% of bismuth. The EU is likewise dependent on other countries whose mining sector is influenced by China, such as the Democratic Republic of Congo, from which the EU obtains 68% of its cobalt. Fortunately,
the EU is aware of the vulnerability of its dependence on these critical raw materials
, which is why in the coming months it will present a proposal for a critical raw materials standard to strengthen the supply chain for the EU.
China's role in the green transition of the European economy goes beyond raw materials.
In 2021,
89%
of solar panels and
64%
of wind turbines imported by the EU came from China. The top 5 manufacturers of solar inverters, with a market share of over 60% in 2021 and led by Huawei, are also of Chinese origin. The market for electric vehicle batteries is also dominated by China, with Chinese companies CATL and BYD accumulating a market share of more than 50% by 2022.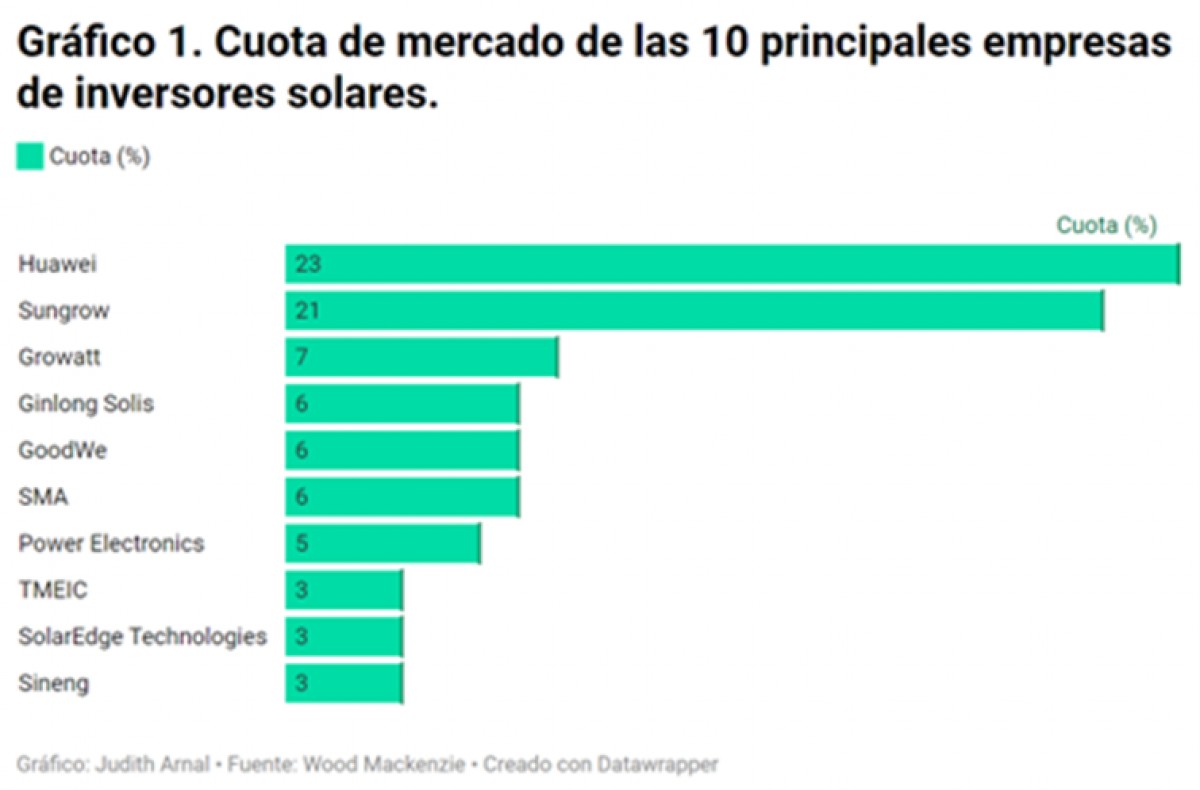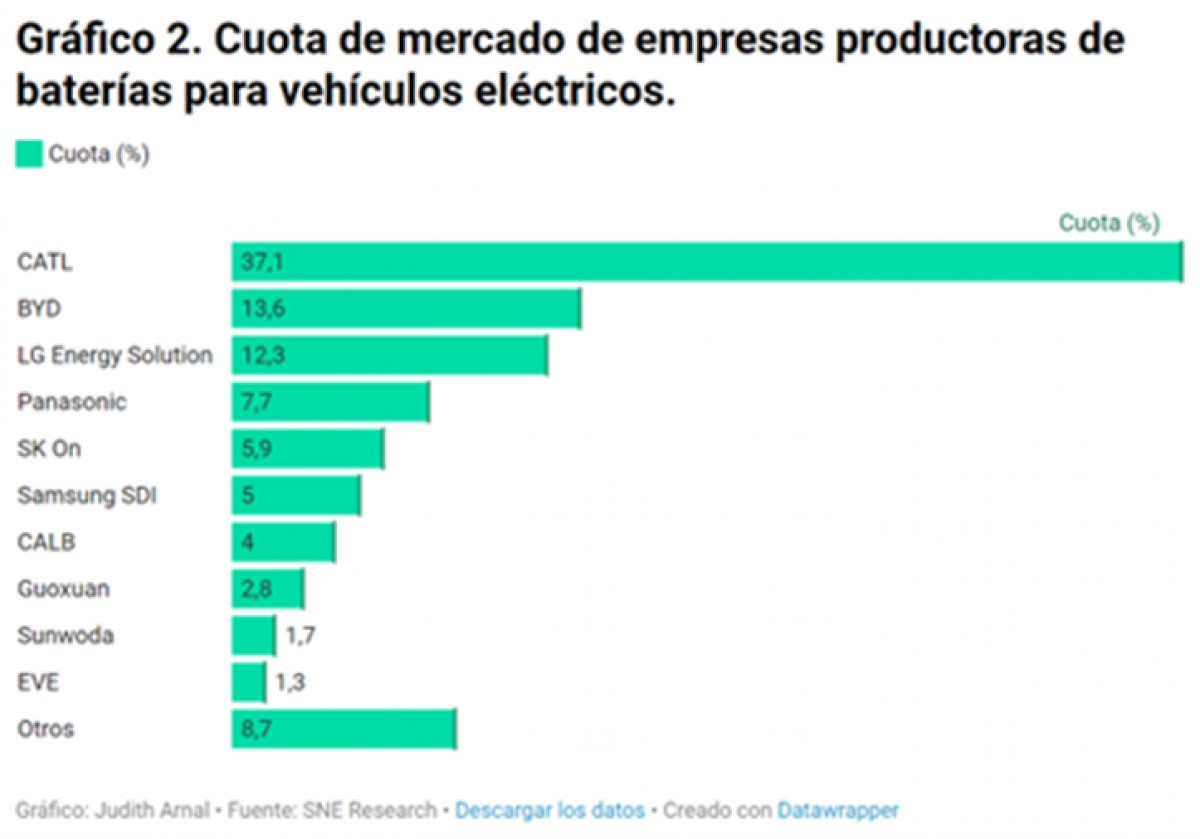 Chinese companies are also playing a key role in the EU's digital transformation.
The relatively lower cost and technical quality offered by Chinese 4G and 5G providers such as Huawei and ZTE led many European operators to opt for these companies for the deployment of mobile technologies. In fact,
in 2015, the EU and China signed an important cooperation agreement on the deployment of 5G technology
. However, in 2017, China adopted a national intelligence law, stating that companies and citizens are obliged to cooperate with national security. This provoked a strong
US backlash
against Chinese companies, which has eventually spilled over to the EU.
Indeed, in 2020, the EU adopted the 5G cybersecurity toolbox, stipulating that member states must vet 5G technology providers, placing restrictions on those classified as high-risk.
This toolbox determines that providers that may be subject to interference from a non-EU third country are to be classified as high-risk, which, taking into account China's national security law, points to Chinese 5G companies being classified as such. The approach followed by Member States in implementing the toolbox is not homogeneous, ranging from the Swedish outright ban on operators contracting with Chinese suppliers to the German case-by-case review approach. Despite reactions from countries such as the US and measures taken by the EU, according to a report by Danish consultancy Strand,
59% of 5G RAN equipment in Germany in 2022 came from Chinese operators
, compared to 57% of 4G RAN in 2020. Huawei has a larger market share in Berlin than in Beijing, where it has to compete with other Chinese operators.
China's importance is growing in ensuring the financial stability of many developing economies, and thus global financial stability.
According to the Peterson Institute, under the Belt and Road Initiative, China has lent more than
$100 billion
to developing countries, accounting for 57% of these countries' total debt to official creditors. The issue is that China is not part of the Paris Club (nor does it intend to be), where official creditors coordinate developing country debt problems in order to allow the country to return to sustainability. Thus, with the major creditor acting as a black box, multilateral coordination among creditors becomes much more difficult, putting financial stability at risk. In response to this situation, the G20, of which China is a member, has launched the Common Framework to coordinate debt restructuring processes. So far, however,
the initiative has had little success
, with only four countries benefiting from it.
Ultimately, the EU's dependencies on China have increased in the wake of the Russia conflict and plans to accelerate the green and digital transitions. But it seems that the EU has learnt its lesson and has identified the points on which it is heavily dependent on China.
The coming months will be interesting and we will need to keep an eye on the proposals coming out of the European Commission. Also the approach taken by member states, which, as we have seen with 5G, sometimes differs. It is quite likely that, given that it is very difficult to concentrate 100% of all value chains in the EU, part of these initiatives will involve friendshoring– strengthening value chains through friendly countries. But one has to be careful, because sometimes friends fail...