Economic ties between Morocco and Spain have grown considerably in recent years, despite the slowdown caused by the pandemic. Fundamentally, the relationship between the two countries is
linked to trade
, since,
in the area of investment, France is historically Morocco's main partner
.
In this respect, Morocco has acquired growing importance in recent years as a recipient of investment in the
industrial
,
energy
,
textile
and
infrastructure sectors
, areas that will continue to be key in the future. Moreover, the Moroccan government's strategy pursues the diversification of its economic partners, in large part to reduce its dependence on the EU.
This makes the US and China potential rivals for the EU and Spain in the country, as they have recently increased their economic ties with Morocco.
This report is divided into three parts. First, it provides an
overview of Morocco's economy
. Second, it looks at
Morocco's trade relations with Spain
and the rest of the world. Third, it analyses
investment flows involving Morocco
, with an emphasis on its relationship with Spain. Finally, conclusions and future prospects for economic relations between the two countries will be presented.
An overview of Morocco's economy
Morocco is the
59th largest economy
in the world in terms of GDP and the fifth largest in Africa. It has a
population of 35 million
and an urbanisation rate of
64%
. In terms of per capita income in purchasing power parity, Morocco has a
per capita
income of $8,058
, ranking
13th on its continent
. Income distribution is very unequal, with a
Gini index of 44.4%,
one of the highest in North Africa (about 10 points higher than Egypt, Tunisia or Algeria). Moreover, the
Human Development Index
, which includes data on income, life expectancy and education, is 0.686 in 2019 (ranking 121st out of 189 countries). However,
relative poverty rates have fallen from 15.3% in 2001 to 4.8% in 2019
.
The economic structure is characterised by a
strong dependence on the primary sector
, which
accounts for 12.65% of GDP and 35% of the employed population
. In addition to being a volatile sector due to climatic variations, Moroccan agriculture has very low productivity despite reforms in recent years. Industry, for its part, accounts for 26.81% of GDP, with the
chemical
,
agri-food
,
textile
,
wiring
,
automotive
and
aeronautics sectors
standing out. In addition, over the last decade the services sector has lost some share, from 52% in 2011 to 49.14% in 2021, with the weight of tourism, transport, communications and financial intermediation and real estate services standing out. On the
demand
side,
investment is the main component, accounting for 1/3 of GDP, half of which is of public origin
.
[Recibe los análisis de más actualidad en tu correo electrónico o en tu teléfono a través de nuestro canal de Telegram]
On the energy side, the country has hardly any domestic resources and is a net importer (mainly of oil and coal),
making it critically dependent on the evolution of international energy prices
. In recent years, the government has promoted the development of renewable energies to improve this situation. Largely due to energy imports,
Morocco has a negative trade balance
, with a
deficit of $22.19 billion in 2021
.
In 2022, Morocco's economic situation has not been good, with the
IMF
estimating
growth at around 1%
and
inflation at over 6%
, and
it will still not recover pre-pandemic levels of per capita income
. The drought and the war in Ukraine have hit the country's economy, affecting agricultural production, prices and the external balance. On the positive side,
the recovery of tourism, strong remittances and resilient exports have partially offset these shocks
.
Morocco's trade relations with Spain and the world
Morocco has a trade openness rate of
58%
(relatively high) and is not very diversified, with more than half of its trade dependent on the EU. It also has several free trade agreements with its main partners (mainly the EU) and is the
first African country to have such an agreement with the United State
s. In recent years, however, the government has sought to diversify its trade and prioritise import substitution. To this end, it has promoted
domestic sourcing in public procurement
and has used trade defence instruments in the steel, ceramics, paper, wood panels and plastics sectors.
Of all the country's trade, 95% passes through the ports and is connected to Spain mainly through Casablanca and Tangier Med
. The latter is the most important port on the continent in terms of container capacity and is located in a strategic point in the first free zone in Africa. In addition, the connection of road freight lorry traffic with the port of Algeciras is a key logistics service between the two sides of the Strait of Gibraltar.
Morocco exports mainly products linked to the
automotive
,
agri-food
and
phosphates sectors
, and imports mainly
energy
,
capital goods
and
consumer goods
. In terms of
trade
links with the world,
16% of Morocco's foreign purchases come from Spain
, which has been its main trading partner for decades.
Historically, France (11%) has been Morocco's second largest trading partner, although China has overtaken the European country since 2020, with a 12% share. The third country is the United States, with 7%.
Figure 1.- Morocco's purchases in 2021 (percentage of total). Source ICEX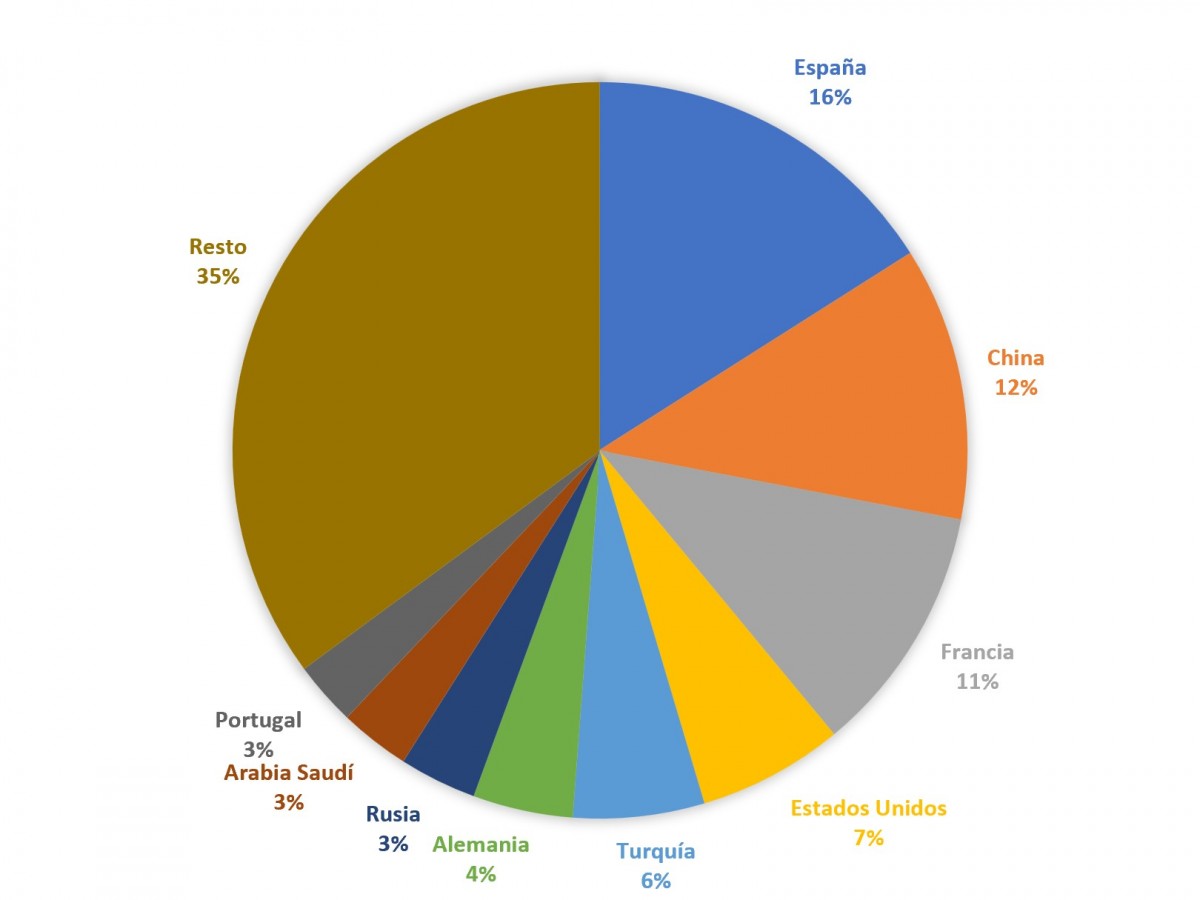 In the
EU
as a whole, sales to Morocco amounted to
€25.137 billion
in 2021, or 0.5% of total European exports. Conversely,
the EU received goods valued at €17.979 billion, with Spain (22%) being the main recipient and France the second
.
Brazil
,
India
and
Italy
follow at a considerable distance and China has practically no weight as a recipient of products from the African country. The same is true of the United States, although table olives are becoming an important product since the US attack on
Spanish
olives.
Figure 2.- Moroccan sales in 2021 (percentage of total). Source: ICEX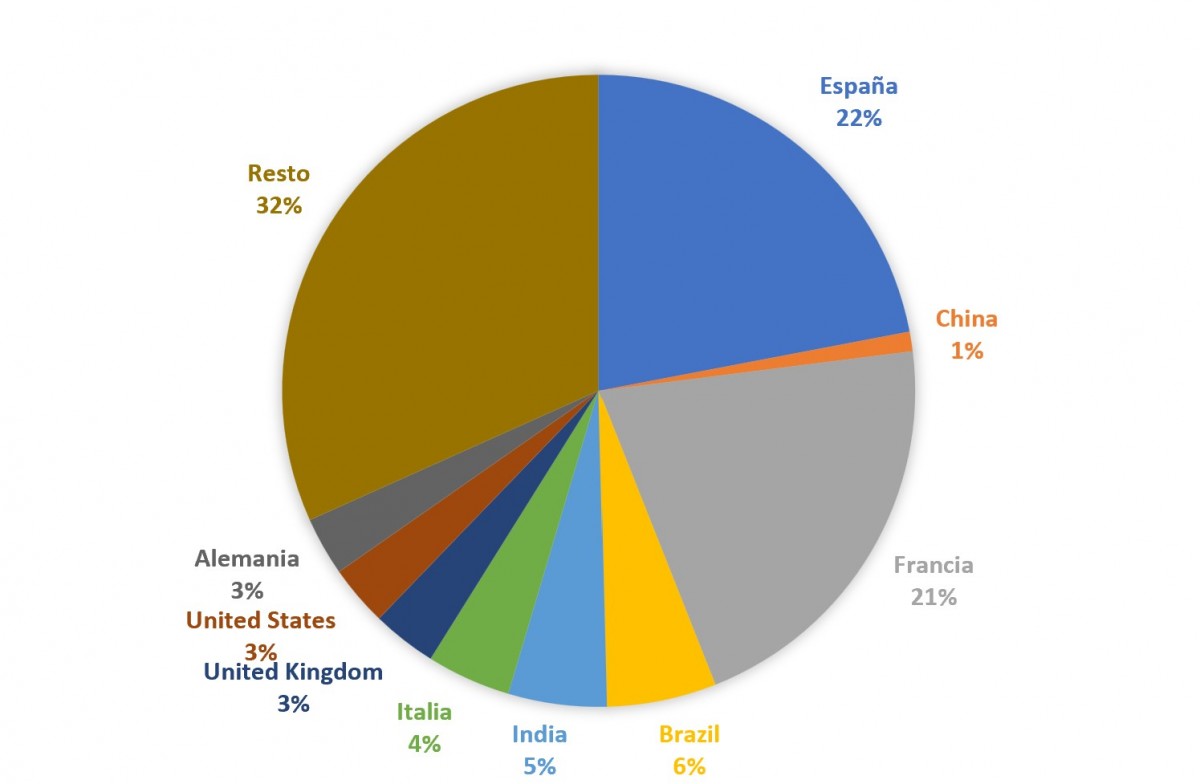 Overall,
Morocco's trade deficit with the EU accounts for 28.2% of its total deficit in 2021
, although it has lost weight in recent years (in 2018 it was 38.9%). The African country also has a significant
deficit
with
China
(29.5%), the
United States
(11.9%) and
Turkey
(11.7%).
Trade between Spain and Morocco has grown considerably over the last 25 years, at an average rate of 10% per year, although for the European country it accounts for only
2.8%
of exports and
2.3%
of imports. However, if we look at the number of Spanish companies exporting to the African country, these have fallen from 21,861 in 2019 to 17,644 in 2021, probably due to the impact of the pandemic.
Figure 3.- Spanish trade with Morocco in millions of euros. Source: ICEX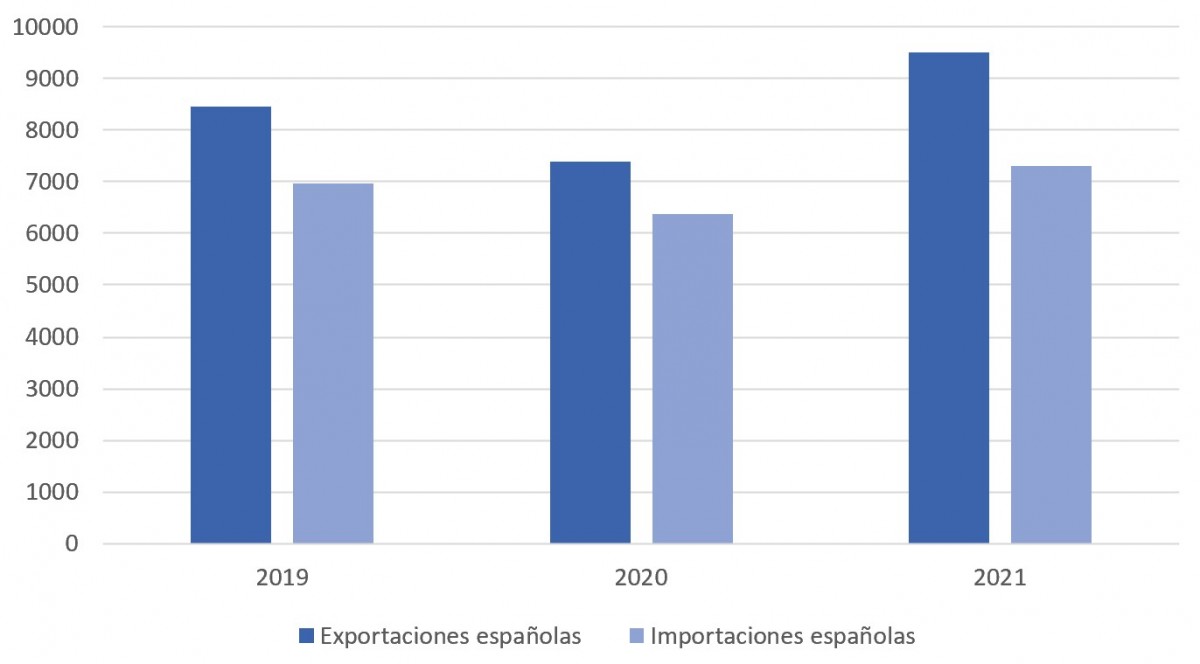 Overall,
Spain has a surplus in bilateral trade with Morocco and a coverage rate of 130%
. Looking at the
breakdown
, Morocco exported to Spain mainly
cable
(21.6%),
suits
(6.66%) and
cars
(5.69%). Conversely, the main products exported from Spain to Morocco were refined
petroleum
(9.5%),
motor vehicles
,
parts and accessories
(6.9%) and
copper wire
(3.25%).
In terms of trade in services,
Spain has a bilateral surplus with Morocco, with tourism being the main sector between the two
. Before the pandemic, it accounted for two thirds of services exported to Morocco and three quarters of Moroccan exports to Spain. In addition, transport and business services are the most important exported services.
Figure 4.- Exports from Spain to Morocco by sector. Source: OEC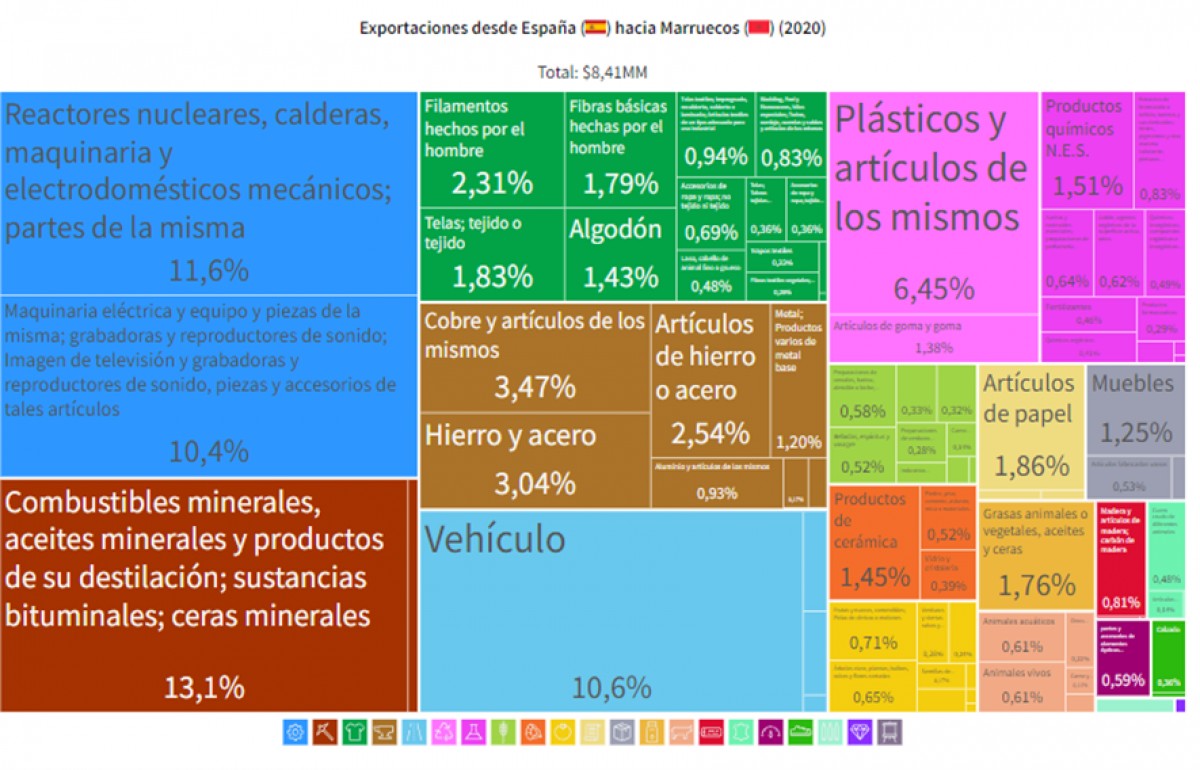 Figure 5.- Exports from Morocco to Spain by sector. Source: OEC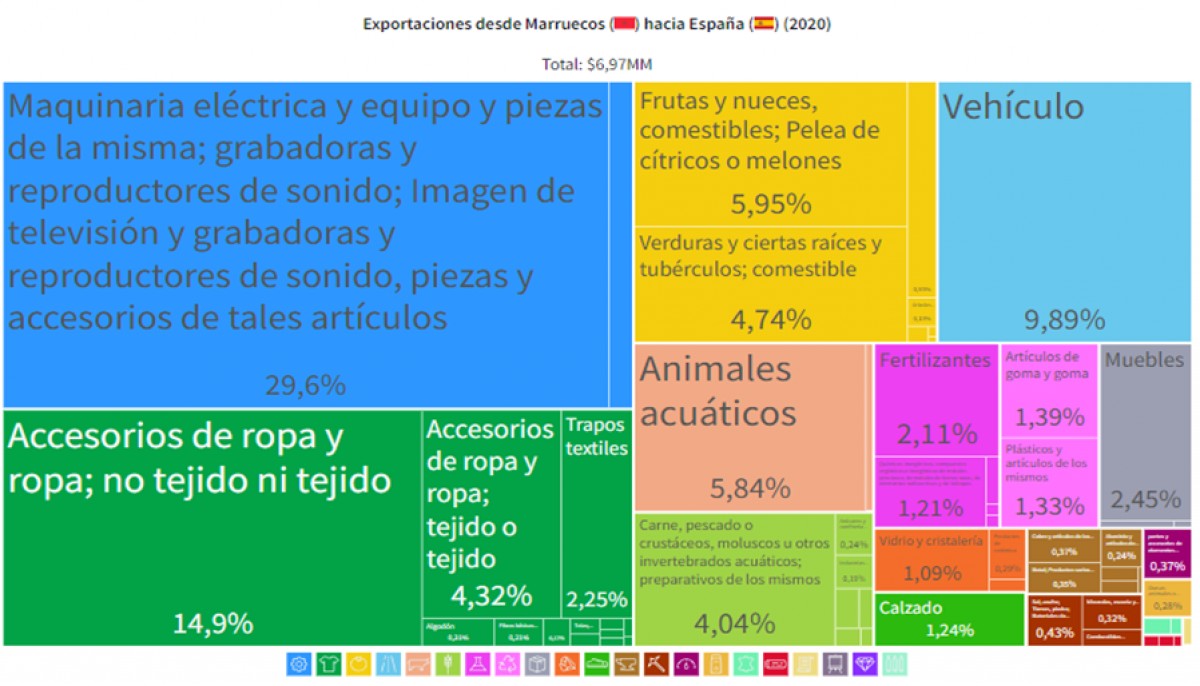 Foreign investment between Morocco and Spain and the world
In recent years,
Morocco has increased its absorption of foreign investmen
t, mainly in the industrial sector and oriented towards foreign markets. This attraction is due to
low labour costs
, the
strategic geographical location
,
tax exemptions
and the
boost in infrastructures
that connect Morocco's trade with Europe, allowing goods to reach Spain, France and Portugal in
less than 48 hours
.
If we look at the data, although Morocco's main trading partner is Spain, the same is not true for foreign investment coming into the country. In this case,
France has historically been the main investor, accounting for around 30% of the total in the last decade
. However, during the first half of 2022, the United States would have overtaken France. The US leap would be significant, as in 2021 it accounted for barely 3% of foreign direct investment in Morocco.
Figure 6.- Foreign direct investment in Morocco in the first quarter of 2022. Percentage of total. Source: Office Des Changes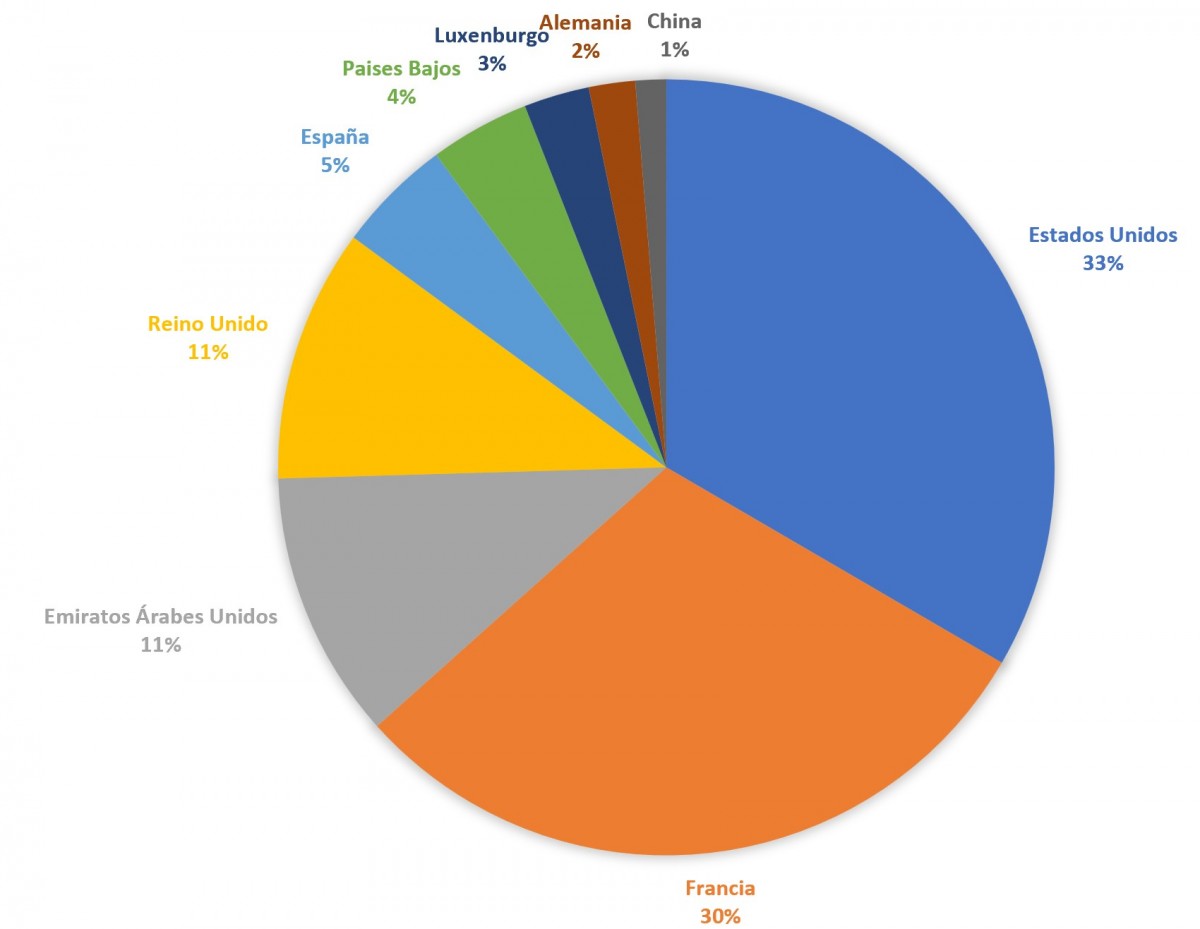 A significant part of the investments coming to Morocco are in the
automotive sector
. The case of the French company Renault stands out, which has relocated part of its production to Tangiers, which has pushed other companies in the sector to locate in the area as suppliers. For example, in 2020, the South Korean group Hands Corporation set up an
aluminium wheel manufacturing plant
in the area. Cities such as Kenitra have also attracted investments, such as those of the Dutch group Stellantis (which built a plant in 2019) or the Chinese group Citic Dicastal (with an aluminium wheel manufacturing plant). Recently, companies such as Yazaki, Sumitomo, Lear, Stahlschmidt and TE Connectivity have announced investments in the sector.
The energy sector is also attracting investments due to the Moroccan government's
strategy to boost renewable energies
. Specifically,
the goal is to cover 52% of its energy needs by 2030 with clean energy
. For example, companies such as Saudi Arabia's Acwa, France's EDF Renewables, the Japanese group Mitsui and Siemens-Gamesa are investing in these projects.
As for the relationship with Spain, this was the sixth country in 2021 with 5% of investments, which makes it clear that the relationship between the two countries is more commercial than investment.
In total, Spanish investment is 4.148 billion euros and Morocco's investment in Spanish territory is around €120 million. By companies,
Siemens-Gamesa
has a wind blade factory in Tangiers, Banco Santander owns 5.1% of the Moroccan bank Attijariwafabank, and the Boluda group has a towing and assistance concession in Tangiers Med. Spain is also present in the automotive industry with factories and
subsidiaries
of Ficosa, Grupo Antolin, Cie Automotive and Gestamp. In the textile sector, Inditex has 32 shops and nearly
300 factories
and workshops that belong to its chain of suppliers. In the tourism sector, the hotel chains of Riu, Meliá, Eurostars, Globalia and Iberostar stand out.
In this line, it is also important to highlight the electricity
interconnection
with Spain.
Two submarine interconnections with a combined capacity of 1,400 MW are currently active and a third will be launched.
In addition, an
agreement
was signed in 2016 between Morocco, Germany, France, Portugal and Spain to boost the exchange of renewable electricity. In the longer term,
Morocco aims to export energy to Europe in the form of green hydrogen or ammonia
.
On the other hand, Morocco does not have as much weight in investments in Spain. However,
some of its main companies operate on Spanish soil
, such as the BMCE banks, Group Banque Populaire du Maroc and Attijariwafa, mostly controlled by Al Mada, a group of companies owned by the royal family.
Finally, it is important to highlight the role that
China
may play in the coming years, although this is not yet reflected in the investment data. Indeed, while
Egypt
,
Libya
,
Tunisia
and
Algeria
had already signed a memorandum of understanding with
China's Belt and Road
macro-project, Morocco is the first to commit to the implementation plan, which details cooperation and specific projects.
The plan includes the creation of joint ventures in the energy sector and investments in the health, financial and agricultural sectors.
Morocco could be used as a transit point for China to link sub-Saharan Africa and Europe.
In addition, the
Tangier Tech City project
, funded by China Communications Construction Co (CCCC), a Chinese state-owned company, and managed by its subsidiary China Road and Bridge Corp, stands out among the projects with China. The aim is to build an industrial and residential city that will house a population of 300,000.
It is estimated that some 200 Chinese companies may set up in the city, including a logistics centre for Huawei and a wind power plant for Aeolon.
Conclusions and future prospects
The data analysed show Morocco's strong economic relationship with the European Union and Spain.
Historically, the country's trade links with Spain and the reception of investments from France stand out.
Specifically, the sectors with the greatest weight in international economic relations are the automobile, energy, textile and wiring sectors, in addition to the importance of infrastructure as a pole of attraction for investment.
In general, these ties have generated a critical dependence of the country on Europeans, which has led the Moroccan government to
consider a diversification strategy
. This new approach is beginning to materialise in the reception of investments from the United States and the investment projects that China will initiate in the country.
This trend will increase competition with the EU and Spain, which could increase tensions in the region.
In this regard, it will be important to observe the evolution of Morocco's Belt and Road projects and to see whether US investments continue to grow steadily.