In the first week of September, the STC group, a Saudi Arabian telecommunications company, announced an investment of €2.1 billion to acquire 9.9% of Telefónica's share capital, which would make it the company's largest shareholder.
This news, which has practically kicked off the financial year, has sparked a huge debate on two grounds. First, the promotion and protection of strategic sectors for Spain. Second, the implications of this case – and others like it, which are increasingly growing – for the strategic autonomy of the European Union.
The STC Group is the most important telecommunications company in the Middle East.
It is listed on the Saudi Arabian stock exchange and has a market capitalisation of close to €50 billion, more than double that of Telefónica.
Telefónica is one of the most important companies in the European Union, along with Deutsche Telekom, Orange, and Telecom Italia, among others. The Saudi company has a direct relationship with the Saudi sovereign wealth fund, the Public Investment Fund (PIF), chaired by Crown Prince Mohammed bin Salman. This fund owns 64% of the STC Group's shares. Meanwhile, Telefónica underwent the process of liberalisation of public participation in the telecommunications sector in the 1990s, after the European Commission launched a European regulation in 1993 to stimulate free competition in the sector.
A Strategic and Sensitive Sector for Spain
This privatisation of Telefónica and other companies does not exclude the fact that telecommunications companies are still considered a strategic sector in Spain and in the European Union. With the onset of the pandemic in 2020, Spain, as in other EU countries, proceeded to strengthen foreign investment regulations in order to
protect national companies of strategic value
,
carry out greater control of foreign investment
, and
provide the system with greater legal certainty
.
[Recibe los análisis de más actualidad en tu correo electrónico o en tu teléfono a través de nuestro canal de Telegram]
The STC Group's acquisition of 9.9% of Telefónica is divided in two: on the one hand, 4.9% of shares representing the share capital; on the other hand, financial instruments conferring an economic exposure on another 5% of the company's share capital. According to Article 7 bis of Law 19/2003, STC's operation on Telefónica would not require authorisation by the Spanish Government, as it is below 10% of the share capital.
However, this provision is superseded by other provisions of both Law 19/2003 itself (Article 7), which provides for authorisation for investments in the field of national defence, and Royal Decree 571/2023, according to which, if the activities are directly related to defence, industrial capacities and areas of knowledge to provide equipment, systems and services to equip the Armed Forces, the threshold above which the foreign investment assessment is triggered is no longer 10%, but 5%.
The STC Group's link to a sovereign wealth fund where defence assets are financed, and Telefónica's portfolio of services with the Ministry of Defence in the areas of cybersecurity, fibre, and communications mean that the government can intervene.
However, the telecommunications sector is not only a strategic asset for the services it provides to the security ecosystem. It is also a sensitive sector for guaranteeing essential services in a welfare state, such as hospitals, schools, emergency services and care for the elderly.
Hence, Spain's own National Security Strategy, revised in 2021, includes technological and industrial capabilities as the second of its three fundamental objectives. To develop these national capabilities, comprehensive strategic planning is needed, with a catalogue of resources, preparedness plans, an early warning system based on indicators, and the integration of National Security information.
Already in February 2023, the STC Group and Telefónica signed a
strategic partnership agreement
, whereby the Saudi group became a member of Telefónica's Partners Program, which includes other leading telecommunications operators and covers more than 65 markets in Europe, Latin America, the Middle East, and Asia.
Spain is no exception. The geopolitical role of telecommunications companies explains why the STC Group, which had hardly any presence in Europe, has in recent years been diversifying its business in countries such as Bulgaria, Croatia, and Slovenia, where it has acquired telecommunications tower assets.
This internationalisation strategy is not only a business tactic. It is also linked to Vision 2030, a government programme launched by Saudi Arabia that seeks to diversify economically, politically, and socially, beyond oil exports,
on which it is still dependent and which provides almost 75% of its national budget
.
Implications for the Strategic Autonomy of the European Union
The telecommunications sector is an area to protect, but also to promote, in order to ensure the EU's strategic autonomy from external vulnerabilities, supply chain crises and high-risk dependencies.
The EU set a target of 10,000 edge nodes by 2030 in its Digital Decade Programme. This target is still far from reality.
The mandate of the European Commission, which ends in less than a year, was launched in 2019 indicating that it would be a "geopolitical Commission". Beyond the results obtained, where a long series of cooperation initiatives have been established with third countries in the technological field – see the Trade and Technology Council with the United States, and now with India; the Digital Alliance with Latin America and the Caribbean, or the Digital Cooperation Agreements with Korea, Japan and Singapore –,
the reality of the internal market is still a variable terrain
.
The stock price of European telecommunications companies has fallen by 45% since 2015
, compared to rises of more than 22% in media companies, or smaller falls, such as that of the European banking sector, which has declined by 18%, less than half that of telecommunications companies. Added to this is the need to increase the volume, speed, and capacity of telecommunications infrastructures.
Figure 1.- European Company Share Prices by Sector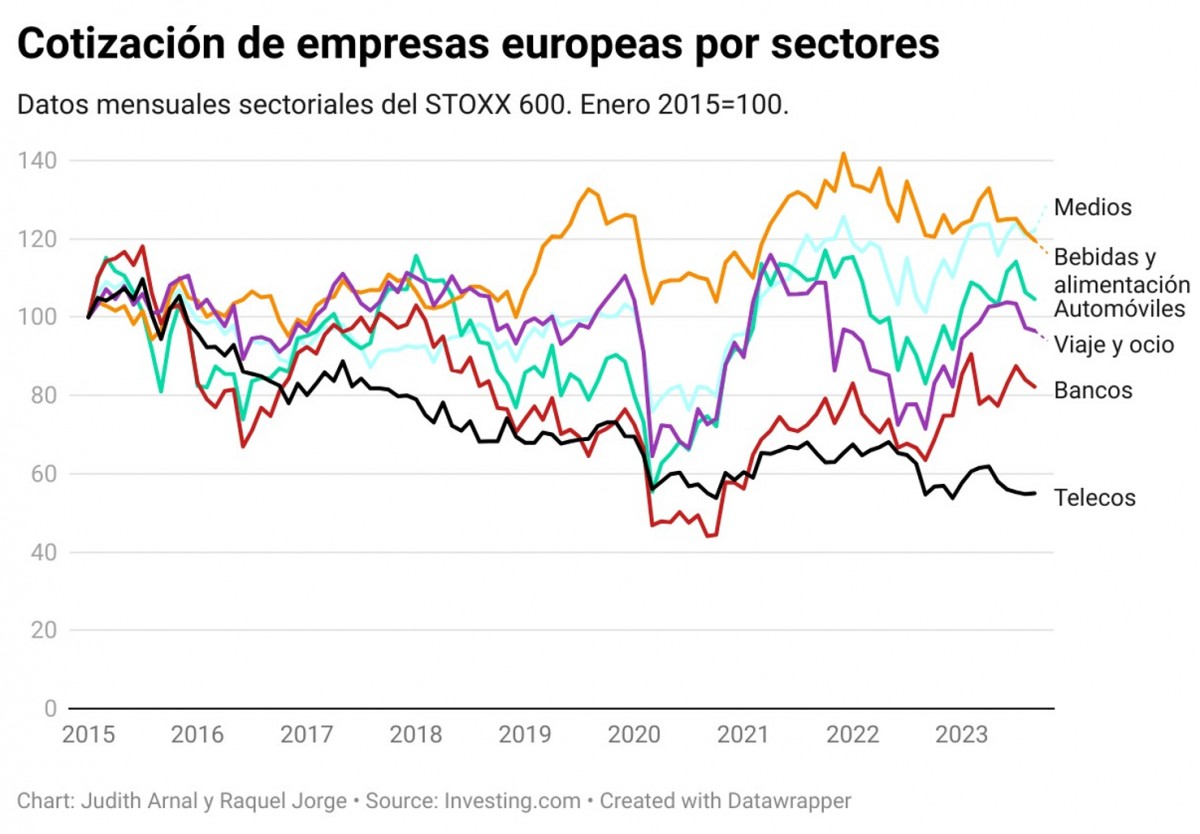 Moreover, the situation of European companies is distinct and differs from other cases, such as the US, where the share price of the main firms fell by practically half, 26%.

Figure 2.- European and US Telecom Company Share Prices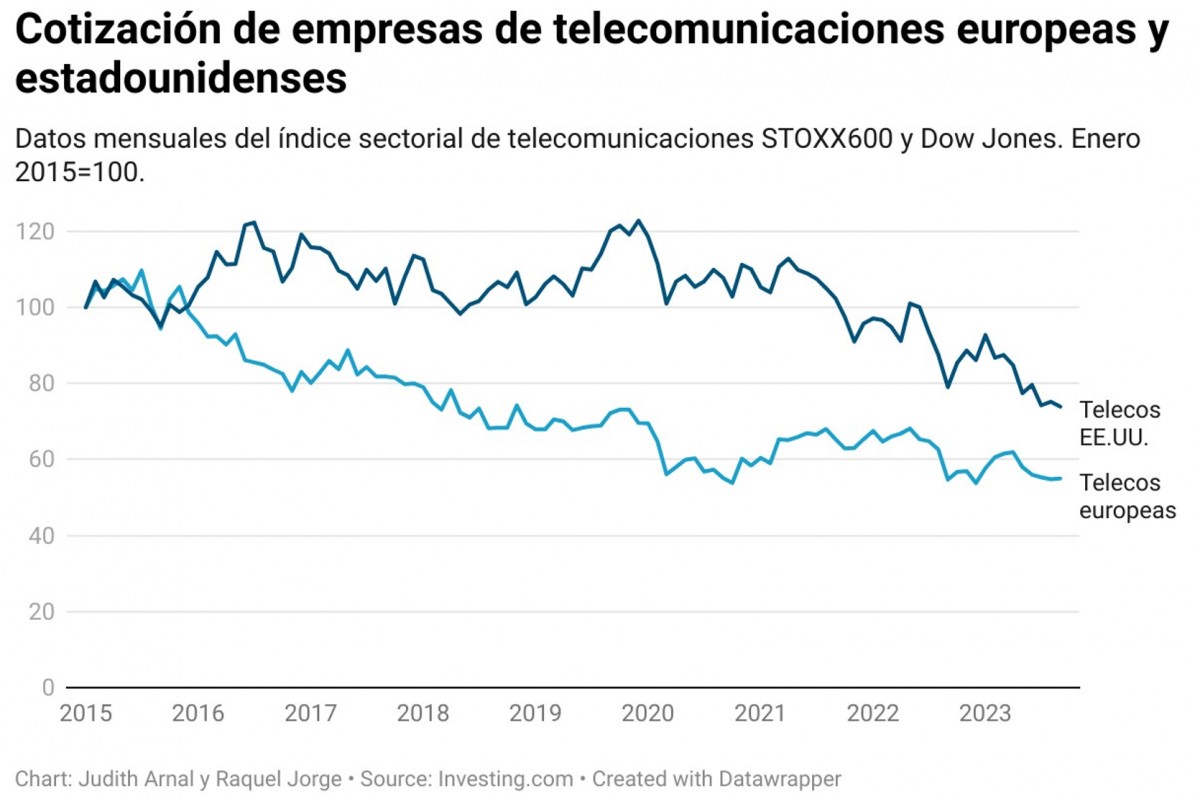 For the European Union to achieve its digital transformation goals, proposals linked to making the Union strategically autonomous need to be explored. This involves several pillars.

First, there is a need for a reform of the applicable EU telecoms sector regulation, which dates back to the 1990s and seeks to ensure price competition, but not to encourage all the necessary investments to be made in the coming years. Secondly, a paradigm shift is needed from the principle of "at least 4 telecoms companies per Member State" to a concentration of the sector to ensure greater scalability of competition. This is not about harming competition, but it is about curbing hyper-competition, which is proving so damaging financially for European telecommunications companies. Third, State aid rules need to be adapted to the current reality, which is also challenged by a growing series of initiatives such as IPCEIs – or Important Projects of Common European Interest, similar to the Spanish PERTEs –, European Industrial Alliances or Joint Undertakings.

But it is not all about funding and industrial policy. Policy matters. There is a need for greater coordination among Member States on the implications of the telecommunications sector for European security and the resilience of critical infrastructures and essential services. Not all Member States have the same interest and concern in the subject – as many do not have national strategic companies in this sector – and not all those that do have the same vision of where vulnerabilities may lie.

Hence, in July the European Union launched its proposed Economic Security Strategy, which seeks to assess risks in four areas - the resilience of supply chains, the physical and cyber security of critical infrastructure, risks arising from technological security and technological leakage, and the instrumentalisation of economic dependencies and foreign economic coercion – all of which relate to the assets, processes, relationships and services that the European telecommunications sector offers. To this end, an important focus of this proposal is to develop a joint, harmonised, and cohesive risk roadmap between each and every Member State, establishing a mutually agreed list of critical technologies, revising the FDI control regulation, and improving the EU's intelligence analysis capability (SIAC) to detect potential threats to EU economic security.

The telecommunications sector is a key asset for the European Union and Spain. Therefore, economic and security needs are equally important. Working to take care of this sector is not about excluding others; it is about protecting and promoting economic and social sustainability.