The acquisition of a stake in Telefónica by Saudi telecoms giant STC (whose market capitalization of 48 billion euros is twice that of the Spanish operator) has rekindled the debate on foreign ownership of so-called "critical" (i.e., essential to a state's economic independence) and strategic assets.
STC is 64% controlled by the Saudi sovereign wealth fund (see below), and has acquired 4.9% of Telefónica's shares, plus a further 5% in the form of derivative securities that can be converted into shares (giving a theoretical holding after conversion of the derivatives of 9.9% of Telefónica's).
Although the threshold for national control of a foreign shareholding is set at 10%, some of Telefónica's activities relate to defense (particularly in the field of cybersecurity), which qualifies the strategic nature of the operation initiated by STC and brings it within the scope of national rules on the control of foreign investments (
Article 7 bis of Spain's Law 19/2003 and Royal Decree 571/2023
). In this respect, the European Commission has just adopted a
recommendation
defining "critical" technologies, which require greater vigilance on the part of Member States, including so-called "dual-use" technologies (i.e., for civilian and military use), and cybersecurity falls within this definition.
[Recibe los análisis de más actualidad en tu correo electrónico o en tu teléfono a través de nuestro canal de Telegram]
The debate on foreign investment in critical assets raises the issue of industrial and technological sovereignty and has been particularly prevalent in Europe since 2017 and the questions surrounding the use of Huawei's 5G infrastructure, introducing a rift between the various EU countries and illustrating divergent interests on both sides with Beijing. These discussions were then exacerbated during the Covid crisis, which illustrated problems of coordination within the EU and securing supplies.
This debate has since given rise to three responses, at both national and EU level (of which Spain has held the Council presidency since July):
A return to discretionary industrial policies, with more outspoken support for national industrial champions, the use of sectoral support plans (including Spain's PERTES) and a more flexible state aid regime (e.g., IPCEI, which allows state aid to be granted to companies under certain conditions, putting an end to the formerly fussy tradition of EU competition law).
The promotion of measures to defend the common market and EU technologies (establishment of a cooperation mechanism between Member States facilitating exchanges of information with Regulation EU 219/452, introduction of a notification procedure involving a financial contribution from third countries and for public contracts having benefited from such a contribution with Regulation EU 2022/2560). At the same time, the draft "Net Zero Industry Act" provides support for European decarbonization technologies, while the draft "Critical Raw Materials Act" sets targets for the extraction and refining of raw materials within the EU.
The birth of a doctrine of EU strategic autonomy, which has accelerated politically since the Franco-German manifesto to revise EU industrial policy after the rejection in 2019 of the Alstom-Siemens merger.
The challenge to an international economic order dominated by the West (real or fantasized), and whose most spectacular manifestation remains China's global pretensions, is nevertheless spreading new candidates,
particularly in the Middle East
.
Mohammed bin Salmane (nicknamed "MBS") rise to power in June 2017 thus rapidly coincided with a reorientation of Saudi Arabia's economic strategy and the assertion of global ambitions
, in favor of a broader diversification of the country's activities to put an end to the rent economy, in the face of dwindling hydrocarbon reserves (in 2011, Venezuela overtook Saudi Arabia in terms of proven oil reserves) and the need to address increased international investment in decarbonization programs.
The
"Vision 2030" strategy
, launched in 2016 and supposed, in MBS's own words, to "
turn the Middle East into the new Europe
", reflects this desire.
Its aim is to reduce public sector employment by creating new jobs, particularly for young people, to develop tourism through ambitious urban planning projects
(e.g., the city of the future "NEOM" on the Red Sea)
, to invest in soft-power and entertainment industries to enhance the country's modern image
(takeover of Premier League soccer club Newcastle, majority stakes in 4 national league soccer teams and an aggressive policy of acquiring world-class players during the last mercado, with the aim of hosting the 2030 or 2034 FIFA World Cup; investments in the video game industry, with stakes in Nintendo, and publishers Blizzard and Electronic Arts); and, allow the country's technological shift, particularly in preparation for the post-oil era (investment in Californian electric vehicle manufacturer Lucid).
The spearhead of this state neo-capitalism is the local sovereign wealth fund, the "Public Investment Fund" (PIF), created in 1971 and whose governance has been gradually reformed since 2014 to authorize it to invest more abroad.
The aim is to increase the fund's assets under management to $2,000 billion by 2030 (it currently weighs $761 billion), which would make it the world's largest.
To achieve this, in April 2023, for example, the new Prince transferred an $80 billion stake in the fund from the state oil company Aramco.
The sometimes-panic-stricken reactions to the Saudi takeover of Telefónica on the national scene nevertheless deserve to be qualified as to the reality of Riyadh's interests in the peninsula.
As is often the case, it's best to look at the figures. Our analysis, based on raw data from PitchBook, leads to the following conclusions:
Lesson no. 1:
Capital from the Middle East has penetrated Spain only
moderately
, compared with other European countries. Indeed, the peninsula accounts for
4.7% of Middle Eastern investment in Europe
over the 2012-2023 period (including the Telefónica deal), with just over 18 billion euros invested.
Source:
Self-conducted based on raw data from PitchBook, Inc.

This is far behind the UK (27.3%) and Germany (21.2%). It is nevertheless more than France (3.8%) and Italy (2.8%).

Lesson no. 2: Investment flows from the Middle East have been relatively erratic over the past decade, which tends to weaken the idea of a build-up over time, and to lend credence, on the contrary, to the fact that Middle Eastern capital has been allocated opportunistically, in response to one-off opportunities. Thus, 2019 was a peak year, with 6.2 billion euros invested, compared with just 317 million euros the previous year, before falling back to 331 million euros the following year.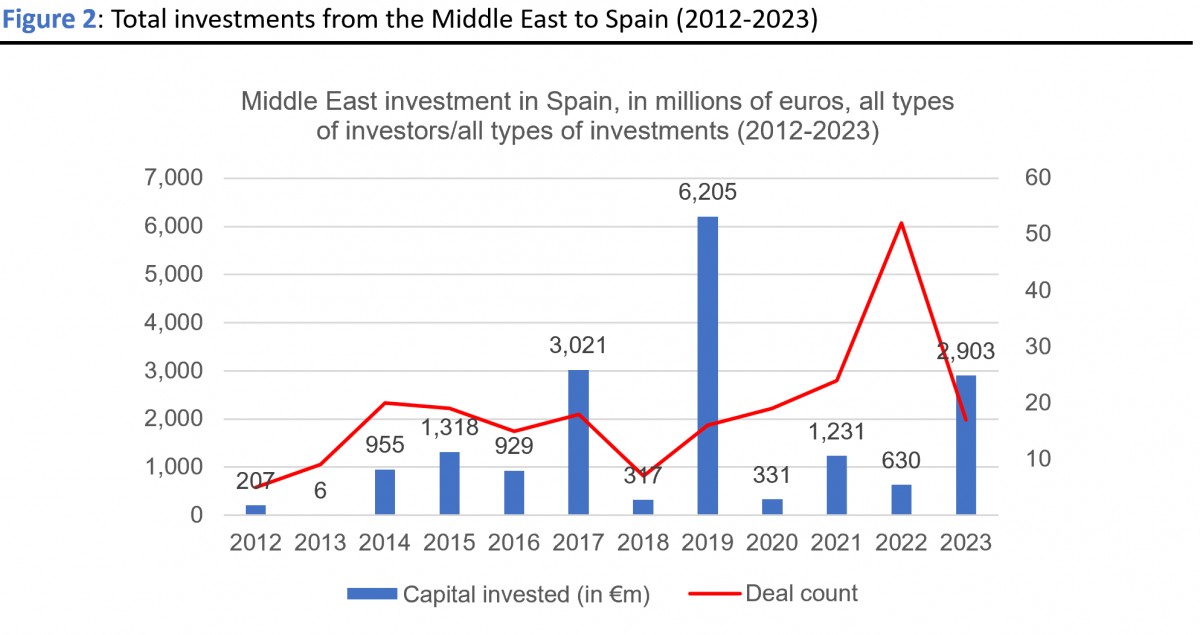 Source:
Self-conducted based on raw data from PitchBook, Inc.
This is particularly the case in the Telefónica deal, with STC seeking industrial synergies (
a partnership with Telefónica was signed in early 2023 in cybersecurity and cloud
) as well as growth relays outside its domestic market, following the example of its Emirati rival e& (ex-Etisalat), which is also 60% controlled by the Emirates Investment Authority sovereign wealth fund, and has held a 14.2% stake in British operator Vodafone since May 2022.
Moreover, Middle Eastern investment in Spain is geographically highly concentrated in 3 major cities: Barcelona (44% of national investments), Madrid (23%) and Bilbao (15%)
, which are unsurprisingly major national industrial hubs, to the exclusion of Valencia, which is surprisingly little concerned by Middle Eastern investments (only 0.9% of national investments).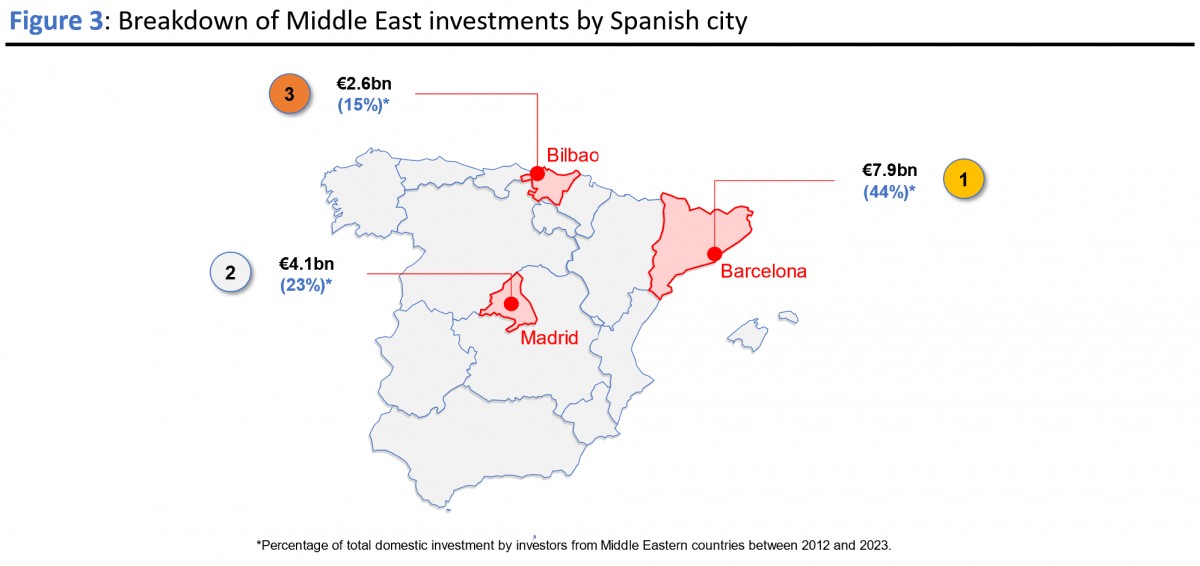 Source: Self-conducted based on raw data from PitchBook, Inc.

Lesson no. 3: To qualify the opportunistic nature of these investments, it should nevertheless be pointed out that Middle Eastern capital is allocated to industries whose activities can be considered strategic and/or critical for states. Thus, between 2012 and 2023, 46% of Middle Eastern investments were directed towards telecoms service providers, and 21% towards companies in the energy sector (14.7% towards gas services, 3.6% towards energy production companies and 2.9% towards energy infrastructure).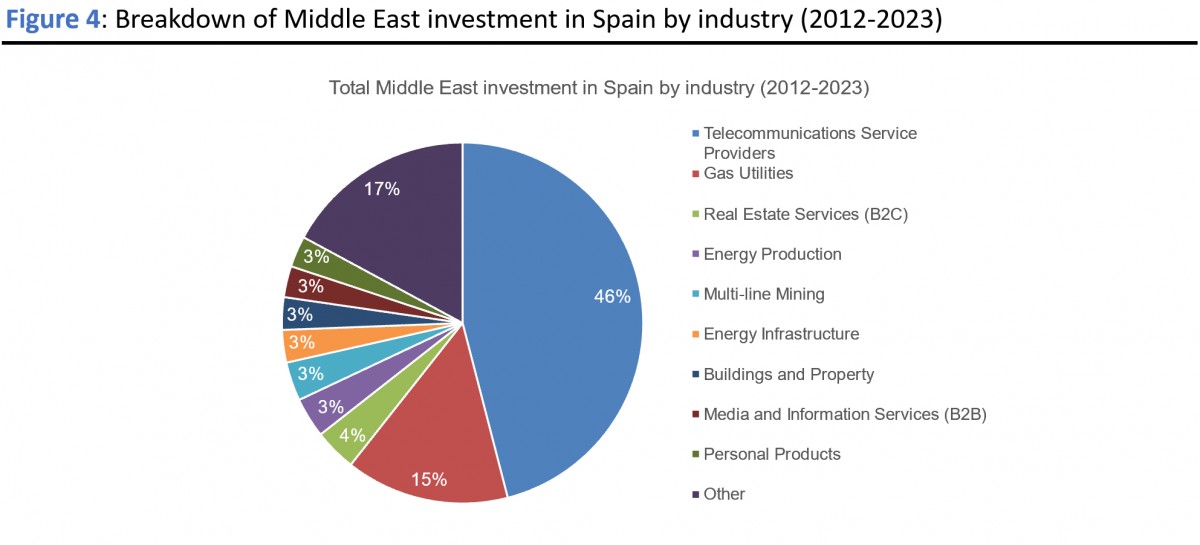 Source: Self-conducted based on raw data from PitchBook, Inc.

Lesson no. 4: Saudi Arabia remains only an emerging player among Middle Eastern investors active in Spain, with just 8 investments made in the peninsula over the 2012-2023 period (for 3 still active investments, including Telefónica), compared with 114 for its Emirati neighbor (of which 44 are still active). This observation does not prejudge the future place of investments from this country, whose reform of the "PIF" sovereign wealth fund should coincide with an intensification of its future investments.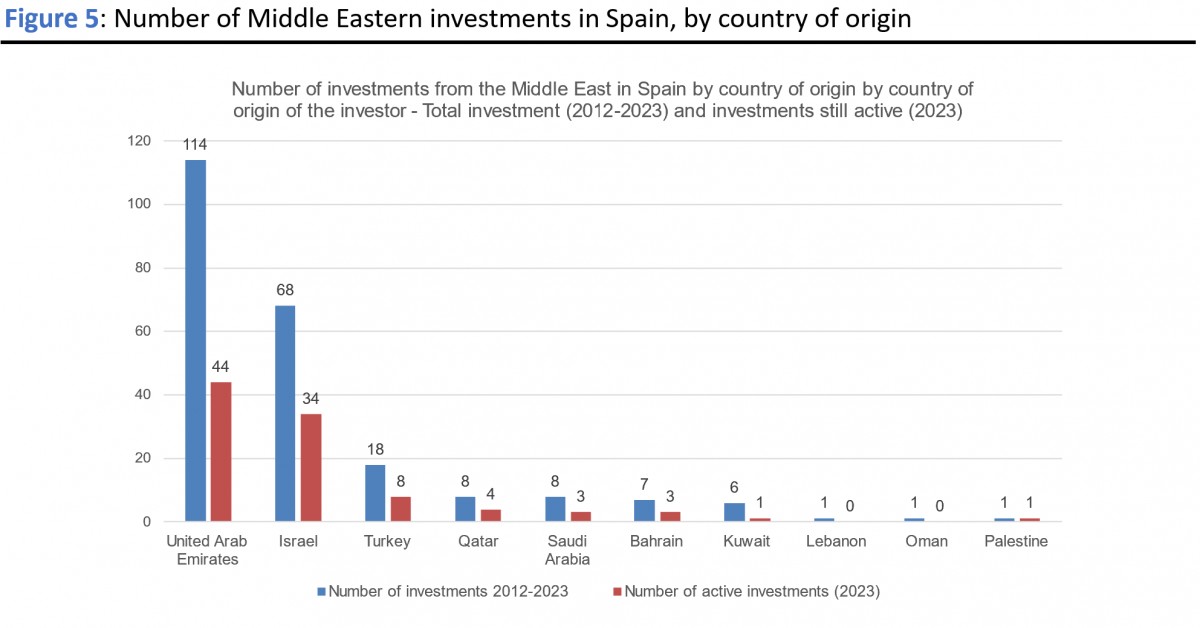 Source: Self-conducted based on raw data from PitchBook, Inc.

Lesson no. 5: The publicity enjoyed by the Saudi Public Investment Fund and its recent activism have done much to suggest the rise of sovereign wealth funds. While these are among the most active investors in the peninsula, being involved in 48 of the 232 deals originating in the Middle East carried out in Spain between 2012 and 2023, they remain less active than venture capitalists (91 out of 232 investments). Nonetheless, some Middle Eastern sovereign wealth funds have been involved in venture capital deals, reflecting a diversification of their activities, and symmetrically blurring the distinction between the different asset classes. For example, one of the Emirati sovereign wealth funds, Mubadala Investment Company, participated in one of the financing rounds of Barcelona-based unicorn Glovo.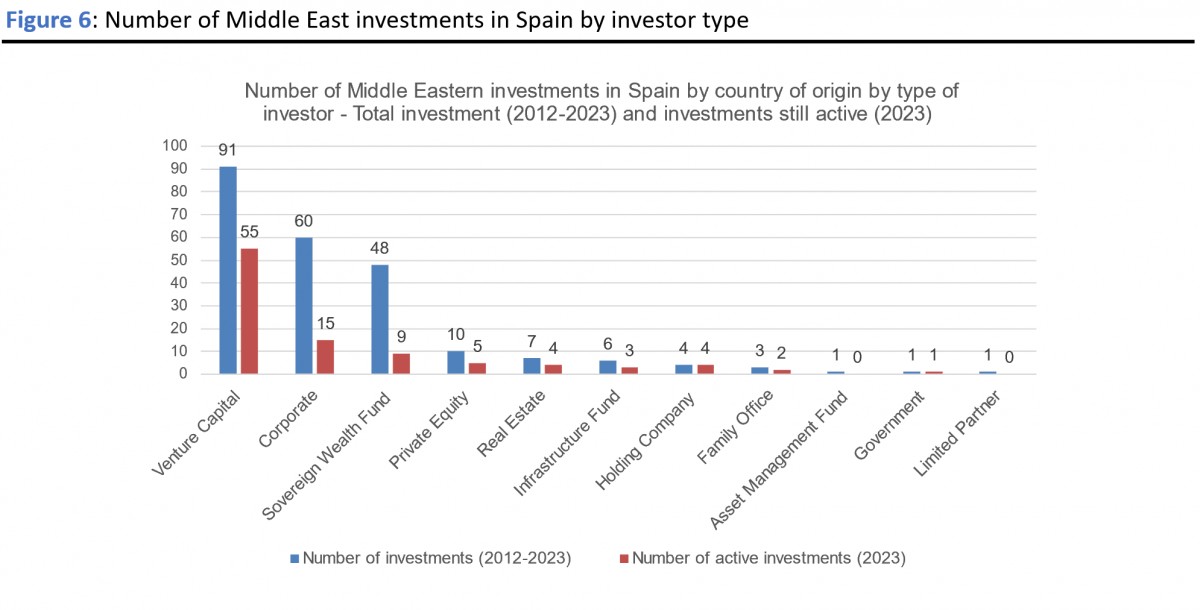 Source: Self-conducted based on raw data from PitchBook, Inc.